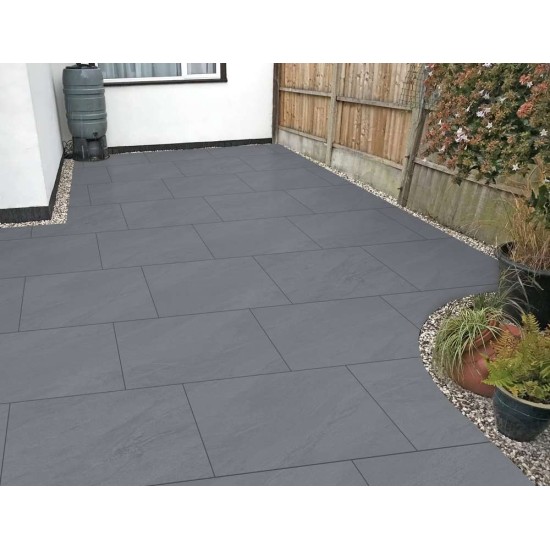 New Product!
Porcelain Tiles - Cathredral Anthracite
Featuring a dark grey surface inspired by anthracite coals, this hard porcelain surface is enhanced by subtle veins that blend beautifully with warmer color accents to resemble natural paving.
PORCELAIN TECHNICAL FEATURES
RECTIFIED - Thanks to their straight-cut, equal sides and corners, the tiles can be placed tightly and with minimal joints.
ANTI-SLIP - All tiles achieve a minimum anti-slip value of R10/R11, so excellent for outdoor use.
WEATHER PROOF - Our fully porcelain tiles are insensitive to moisture and temperature fluctuations. In addition, they are completely frost-free.
TILE PEDASTALS - Thanks to their almost perfect calibration, our easily workable porcelain tiles are ideal for placement on tile supports.
DURABILITY - Tiles are manufactured with compliance to quality parameters that see that your landscape looks great, year on year. Anti-stain and anti-mould products for easy maintenance.
LAYING PORCELAIN
Porcelain paving tiles can be laid similar to natural stones. However, most importantly, a suitable slurry primer is necessary and must be applied to the reverse of each tile prior to laying to achieve full adhesion. Without this coating, adhesion of the tile may fail. Preferably, the porcelain paving tiles can be laid onto a concrete base using porcelain adhesive. As the porcelain paving tiles are extremely hard, they must be cut with water-fed continuous rim diamond tipped cutting disc. Minimum joint width is 3mm. The joints must be impermeable and this can be achieved by using porcelain grout. As there may be slight color variations in manufacturing, please ensure tiles are supplied from similar batches. When laying, you are recommended not to stagger the rectangular tiles by more than 60-100mm.
Stock:

5-7 Days

SKU:

140329